NOTICE to CUSTOMERS:    Please know that I answer every email received in my mailbox. If you do not hear from me, it means that  a spam blocker has not  allowed my return mail through to you.  PLEASE include your phone number in correspondence to me so that I may contact you by phone if email fails. Thank you.

Or continue below to order sweater or charts

I will get back to you by return email with address to send payment.  Money Orders and Cashier's Checks will be accepted and order shipped immediately upon receipt.  Personal checks accepted, but will delay mailing until they have cleared unless you are a return customer.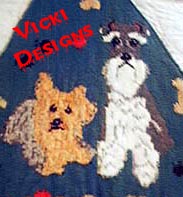 Put in the name of the Charts  you would like to order or Sweater Design intructions/inquiries: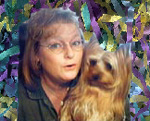 You may send me an email to inquire about custom sweaters or fill out the form and inquire in the comments section and I will get back to you by return email. Most custom work will be done for the same prices as listed above.  They can be done in the yarn color and sweater style of your choice or I can suggest a variety of styles and custom designs
From time to time I make new designs and make the available for immediate sale. Keep checking back for new designs. I also knit & sell baby items and other gift items.  Contact me with inquiries.

Take the Measurements on your Dog and enter them in the order form:

This is for my information and doesn't obligate a sale.  You will be given total information in a return email.

Neck:

Chest right behind front legs:

Measurement from collar to base of tail (or where you would like the sweater to stop on his behind):

Measurement from his collar to his harness ring for the opening:

(If you don't use a harness and don't want the opening let me know)

Measurement of the space between his front legs:

(Hold the tape measure on his chest above his legs and give me the inches between his legs for the chest piece)

Boys:  Measurement from front of neck where collar is to the last rib on his ribcage.

Sweater Order Information (All boxes)

Chart Order Information: (Marked in Red)

SWEATER NAME OR Custom Design: