Charts will be e-mailed to you after payment in .bmp format  to open in Paint to be printed.  You can set up the page to print on one sheet or you can print the chart out on 2 - 4 sheets depending on the design and cut margins and tape the a large chart together for easier reading. These are CHARTS ONLY that you can use in sweaters, vests, afghans, etc.   Notice the row and stitch count beside each chart and make sure they will fit on the design you wish to knit. If you are purchasing these charts to fit on a dog sweater check the stitch and row count carefully. Most are too large.  Contact me with questions.  There are NO REFUNDS after the pattern has been sent.

.
.
Email
me to discuss a custom design preference.  If you like these designs and do not knit, I can knit them for you.  More designs at the link at the bottom of the page.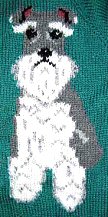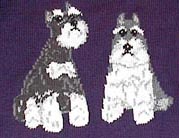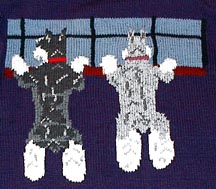 Schnauzers in the Window

$10.00  (80x98)



Nick & Zoe                          (73x84)     $10.00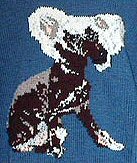 Chinese Crested

(68x93)   $4.50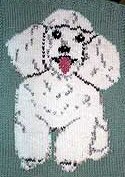 Spicey Sugar Baby
$5.00 (48x94)

Small Schnauzer

$5.00 (28x38)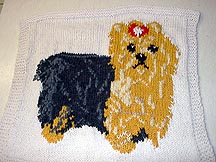 Chloe (61x72)


$7.50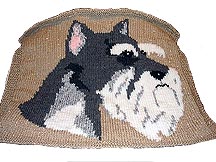 Katie Bell
(90x100)      $10.00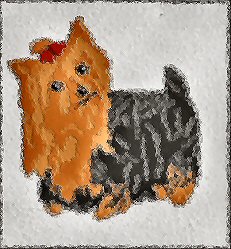 Suzy Q (67x82)
  $ 10.00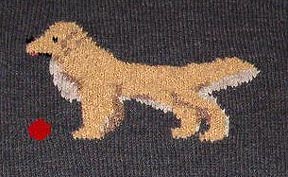 Goldie (51x38) Knitted by Sandy Furness

$ 3.50

*this can fit on a dog sweater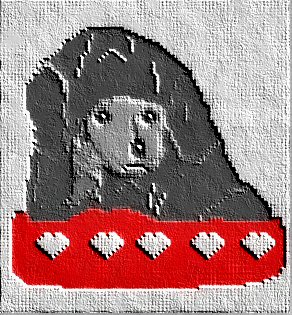 Black Toy Poodle  (76x83)

$ 4.00

       Sagan

(60x87)       $ 6.00

Illustrated Drawing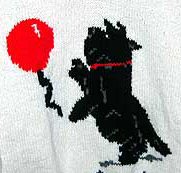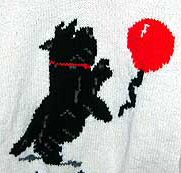 Duke  (76x76)

Let this cute little Scottish Terrier chase his balloon around your sweater. Two separate charts one facing left and one facing right.

1 chart 5.00 Both charts $7.00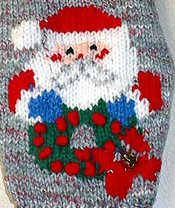 Santa Baby

(23x43)            $ 5.00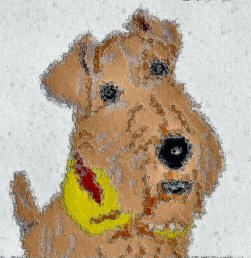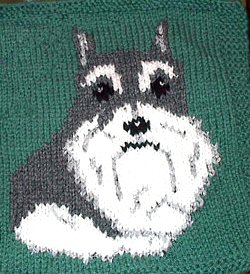 Daisy

(37x57)         $6.50

To be notified when new designs are available join the mailing list below. Set yourself Individual email so you will get the notifications. The only email that comes across on that list are my notifications.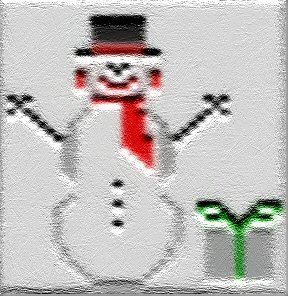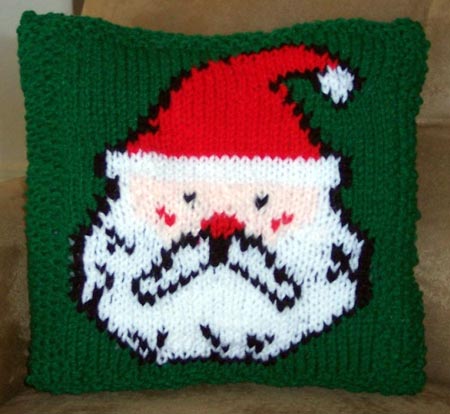 Snowman

(36x41)       $2.50   

     Small Santa

(30x47)            $4.00

Sample knitted by Beverly Shipley

Holiday Set  $12.50

2 Santa Charts, Snowman Chart, Tree Chart & Halloween Chartset sold with child or adult sweater pattern .  Or chart of your choice sold separtely without  pattern (prices below).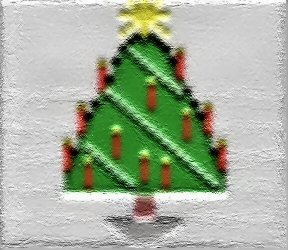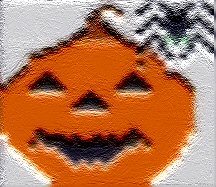 Jack O' Latern

(30x30)            $ 2.50

    Christmas Tree

(23x40)            $ 2.50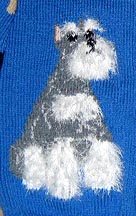 Nick (Right)

(31x92)

   $6.50

Nick (Left) (31x92)

   $6.50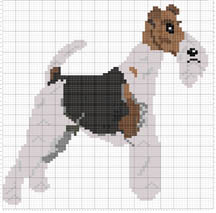 Fox Terrier

$10.00 (80x100)


Intarsia not your thing?  I recommend Birdy's Knits. Click on the logo below to visit her site.